Enhance your wedding with live drawing as well as one and only, made-to-order welcome sign by NY-based fashion illustrator Chloe Takahashi.
Live Drawing
I do both digital and on paper live portrait at weddings in NYC! It is an unique, great way of entertaining your guests and remembering your beautiful wedding. For reference, it takes 10 min for one fashion sketch (full body) and 5 min for a portrait (head).
For the pricing or any other inquiry, contact me at chloetakahashi.net@gmail.com or from Contact!
Wedding Welcome Sign
Welcome your guests with an unique, one and only portrait wedding sign! You can also use the illustration for invitations and other paper items. Not to mention, it will be a great addition to your home decor after the wedding ♡
You can choose from 1. full customized or 2. semi customized depending on your budget.
1. Full Customized
Your illustration is made entirely from scratch as you wish – with your beloved pets, in your favorite setting…anything is possible.
2. Semi Customized
More economical option while you can get all the same elements as the full customized.
Your face is illustrated from scratch just like the full customized, while you can choose from several options for your dress, background color, etc.. as shown below.
Where you can customize
Bride & Bloom's face and hair (fully illustrated)
Bloom's suit color
Bride's dress type*
Background color
Message and names (ig. Welcome to Our Wedding!)
*You can select from one of the following dress types: mermaid line, slender line, A line, princess line, and empire line (please see Recent Works for examples). Note a small change to the dress style such as adding sleeves or vails is free of charge.
Digital files (PDF and jpg) are complementary. Let me know if you wish to have it printed (panel or poster for additional charge)!
Would be appreciated if you can contact me at least 1 month in advance, but express order is also available 🙂
For the pricing or any other inquiry, contact me at chloetakahashi.net@gmail.com or from Contact.
Customer's Feedback
Media Feature
Featured in Japanese wedding magazine 25ans Wedding December issue!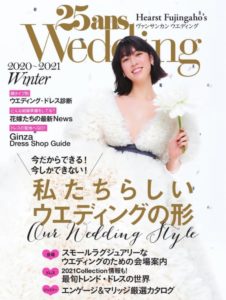 Recent Works