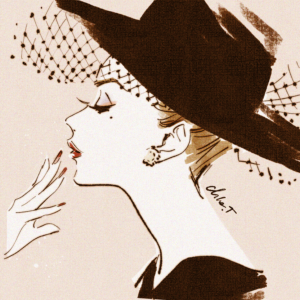 Chloe Takahashi is a fashion illustrator based in Manhattan, New York City. She is originally from Japan and has an international following (Instagram @chloetakahashi_illustrator : 48K followers, RED in China: 22K followers).
She has a unique background –  she used to be a finance geek and worked in investment banking for her earlier career. In 2019, She decided to pursue her passion for art & fashion, and began working as a freelance illustrator. In 2022, she founded an online fashion illustration school Chloe Takahashi Art Class.
She specializes in custom illustrations for fashion and beauty brands, editorials, and retailers, used for campaigns, installations, and consumer products (cosmetics, apparel, stationary & others). She also does live fashion sketch at weddings, runway shows as well as brand activations and corporate events for high end brands.
Product/Service
Custom fashion illustrations
Art licensing
Graphic design
Animation
Live fashion sketch >Learn More
Wedding welcome sign and stationaries >Learn More

For any project or collaboration, please feel free to reach out at info@chloetakahashi.net or from Contact.  
Recent Works
Hermès / Illustration During Event – New York
Harry Winston / Illustration for Brochure
Hearst Fujingaho Magazine 25ans Wedding / Summer & Autumn 2023 booklet Cover & Ginza Map Illustration
SABON / NY Event Invitation Design and Live Drawing, Custom Illustrations for Gift Boxes
NY Hampton magazine Spotlight / May & July 2023 Illustration
Footwear brand Lucida / Sneaker Design, Illustration for Shoe Box
ROKU / NY Product Launch Event Live Drawing
American Vintage / NY Live Ornament Painting
Ginza WAKO Official Website / Illustration & Handlettering
Hearst Fujingaho Magazine 25ans / Dec 2022 Illustration
Bloomingdale's / NY Live Drawing
Hearst Fujingaho Magazine 25ans Wedding / Aug 2022 Illustration
Macquarie / NY Annual Pride Night Live Drawing
Google / NY Live Drawing
Marina Rinaldi / NY Madison Flagship Live Drawing
Hearst Fujingaho Magazine 25ans / Jun 2022 Illustration
Hearst Fujingaho 25ans Digital Promotional Article for Audemars Piguet Royal Oak / Illustration
Porsche / NY Long Island Store Live Drawing
Skincare brand MERAY Skin Check / Illustration
Hearst Fujingaho Magazine 25ans Wedding / Dec 2021 Illustration
Vince / NY Columbus Ave. Store Live Drawing 
MaxMara / NY Holiday Party Live Drawing
MaxMara / NY Madison Flagship 70th Anniversary Event Live Drawing
Tokyo Weekender / Sep & Oct Issue Illustration
Commercial mall Trie Keio Chofu

Rin To Magic / Poster & HP Illustration

Hearst Fujingaho Magazine 25ans / Oct 2021 Illustration & Handlettering
Fashion Consulting XYI / Illustration
Beauty School Aile Beauty Academy / Illustration
Apparel brand Darich / Graphic T-shirt design
Apparel brand Grail  / Illustration
Apparel brand Darich / Graphic T-shirt design
Nisshin Oillio MCT Oil / Illustration for Instagram 
Hearst Fujingaho Magazine 25ans Wedding / Dec 2020 Illustration
Jewelry Jacaranda Blue / Poster at Yurakucho Marui 
New York Times & Wall Street Journal – London Jewelers / Illustration
Printing Marche / Calender design
Art book of selected illustration Girls 2020 
Web media "Dream Sign" / Header design
Japan Business Press Autograph / Illustration for digital magazine
Apparel brand shéller / Novelty post card
Spa Mythel / Illustration for ad
Beauty supplement Gla See / Package illustration & design
Blueberry shop Libel / Illustration for official website
Wedding planner clea.cc / Illustration for brochure